Harley Quinn (Arkham City)
Posted on July 6, 2013
Difficulty: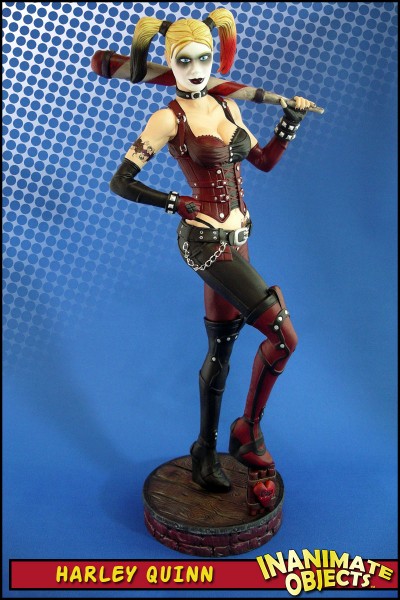 Shortly after I finished Sean Burford's "Whack-a-Bat" Harley Quinn, he revealed his amazing sculpts of Harley from the Arkham Asylum and Arkham City games. Wow! These were amazing! I knew I had to take a crack at these and add them to my shelves.
As is evident from his body of work, Sean has more talent in his little finger than most of us could ever hope to have. That talent shines through in both Harley sculpts. Honestly, I don't feel my paint does the sculpt justice.
These gals are tall! On the base they're 12.75 inches high or so. Sean's castings are reasonably clean. Some clean up and patching was required, but no more than expected.
Working on these was great fun, as I got to play with techniques I don't normally get to use in the animated world, such as washes, dry brushing, and airbrush.
And special thanks to Harley afficianado Laura Magnusson for use of her fantastic Arkham City Harley tattoo art!
Created February 2013