Black Canary (Bombshell)
Posted on July 15, 2019
Difficulty: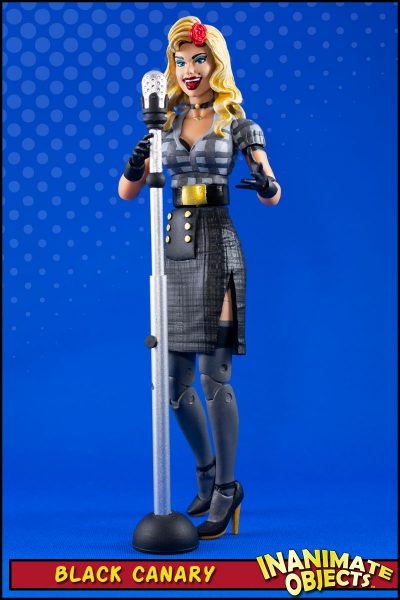 Black Canary was one of the six Bombshells figures solicited by DC Collectibles and then cancelled. I was not prepared to take no for an answer. So I took matters into my own hands.
Canary was a tough recipe to crack. By no means do I claim to have found the best solutions, but I found solutions that could work.
Below the belt, she's taken from a Diamond Select X-Files Scully. I raised the level of the skirt, creating the illusion her upper legs are longer. The torso and arms are from a Bombshells Batgirl, with some details removed and others added. Her head is a casting of Bombshells Wonder Woman.
Canary's hair, as Ant Lucia designed her, is very much a 1940s do, with big curls. I tried my best to sculpt those curls, but it was simply not going to happen. I could not find an existing figure with the same kind of hairdo. So I settled on some Wonder Woman hair (one of the designer series figures). I added the bangs, stole Ivy's flower, and called it a day.
I took the microphone I made for my Comedy Club playset. It's made from the accessory that came with the old Hasbro animated Creeper, with the PVC tubing. (I honestly don't remember what the base is made from.)
Is she perfect? Far from it. But she's better than nothing, which is what DC Collectibles delivered.
Created Summer 2019