Aquaman (Bombshell)
Posted on July 17, 2022
Difficulty: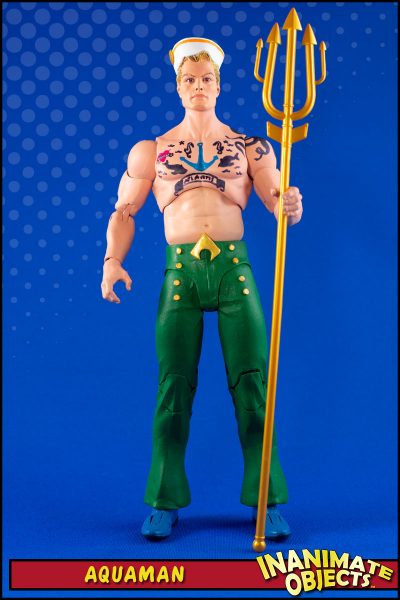 Can't have a Bombshells Mera without an Aquaman, right?
Aquaman's torso and arms began as a wrestler from Jazware's wrestling line. Despite the fact the line is 1:12 (6″) scale, I find that some of the larger men work well as 1:10. I'd tell you which wrestler it was, but I don't remember. (And I know nothing about wrestling.) I do recall he was wearing a soft goods sweat shirt.
His legs are from McFarlane's My Hero Academia line: the big guy with the weird, muscle-y arm. (I also know very little about Anime.) Magic Sculpt was used to build up the flared pant legs. Styrene makes up the buttons, and ProCreate was used for the… belt buckle? What is that? There's no belt there.
His head is from NECA's Flash Gordon. The hat was sculpted from Magic Sculpt. A spare Bombshell Mera donated her trident.
I used marker to create the tattoos, which was probably a mistake. The markers didn't have the crisp edges and bold colors I was hoping for. And I can't say my application was terribly accurate. Still, the over all effect is suggestive enough of his tattoos, so I'll take the win.
Created May 2022