Zod (2013 Movie)
Posted on July 26, 2021
Difficulty: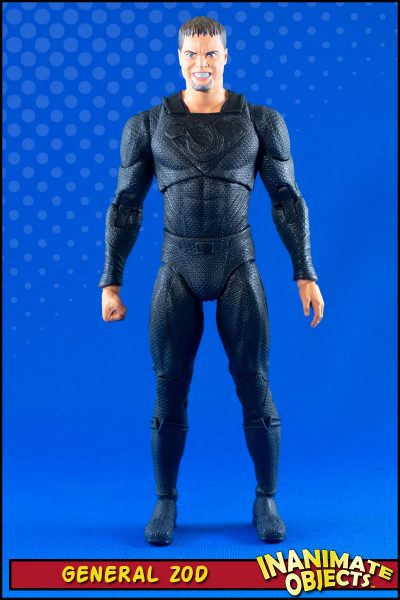 I enjoy watching Michael Shannon chew the scenery in almost project he's involved with. So much fun! As such, I very much enjoyed his turn as General Zod. I needed a decent figure of him, and that Mattel thing from back in the day was not gonna cut it.
This project started when I asked eBay seller one12club if he could produce some of the 1/12th heads he was selling as 1/10th, and he graciously agreed. The timing was excellent, as McFarlane's SnyderCut figures were about to hit. The body is a black suit Superman, so he's halfway finished before I did a thing!
Two challenges remained. The first was the logo. I filled in around the "El" logo with Magic Sculpt, and then sculpted Zod's symbol on top. To match the texture, I mashed some ProCreate epoxy over his buttocks, as that was the widest area of unbroken texture, and created a negative mold. Once cured, I pressed that mold into the new sculpt on the chest shield. It's not perfect, but it serves the purpose well enough.
The other challenge was the holes left behind by the removal of the cape. I followed a similar procedure, filling them with Magic Sculpt and then pressing the texture mold into the epoxy. I sculpted a few of the "lines" to complete the look.
It would be so easy for McFarlane to make this! I requires a new head, and two new chest pieces. That's it! C'mon, Todd, make it happen!
Created July 2021