Wonder Woman (Kid Stuff)
Posted on July 16, 2017
Difficulty: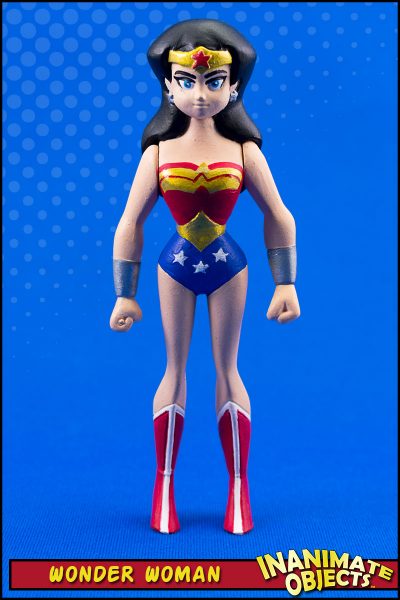 Kid Stuff Wonder Woman uses Stew's kit for the body. I don't recall making any changes to it.
I did, however, use a different noggin for the head. I happened to have an old Legend of Zelda figure in the parts box. (I bought it on clearance thinking it might be useful. 15 years later, I was right!) The head in question had the round shape and big eyes that was a near-perfect match for young Diana's animated appearance. I sculpted the hair and the tiara from Magic Sculpt. I sliced the earrings and the tiara star off a standard Diana figure.
Regarding the metallic paint: there was a time when I would not let the stuff touch my animated customs. It wasn't screen accurate for a 2D design, I told myself. While that is still true, I've decided to cut loose in my old age. The metallic gold may not be screen accurate, but it looks great!
Strangely enough, after all this time, this is the first Wonder Woman figure I have ever made. (Justice Lords Diana doesn't count.)
Thanks, Stew!
Created July 2017