Vampirella
Posted on July 6, 2013
Difficulty: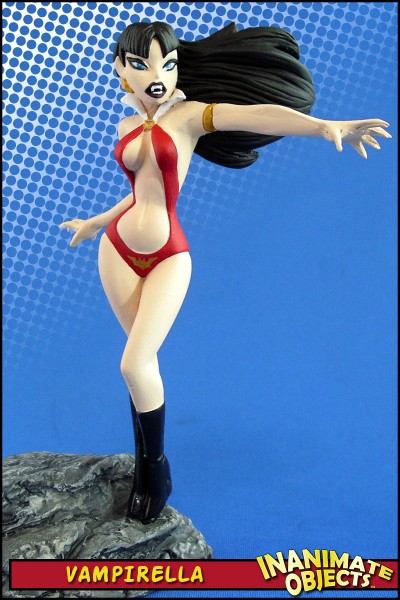 Like so many of my projects, this one took years to finish.
A few years ago, a fellow customizer made me aware of this Vampirella garage kit, based on art by the amazing Bruce Timm. I subsequently missed an opportunity to obtain such a kit on eBay, and it would be years before I saw one again. By sheer chance, I stumbled across one on eBay several months ago, and this time I didn't let her get away.
I don't know who sculpted this, or how the kit was made. I'd like to find out in case the same sculptor offers similar work in the same Timm style. (Plus I'd like to give due credit.) UPDATE: Thanks to Climax1, I now know this was created but the highly talented Joe Simon, though his site appears to be down as of this writing.
The casting I received was reasonably clean. No major parts had to be reconstructed.
After I painted her, I brushed on some gloss over the jewelry, eyes, logo, and boots. It really makes her pop out on the shelf.
As you can see, she's reasonably in-scale with the usual customs and figures. So do I put her on the statue shelf, or the toy shelf?
Created Summer 2012