Uncle Sam
Posted on June 30, 2013
Difficulty: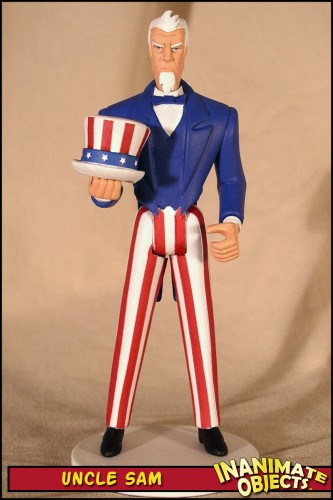 Uncle Sam is part of the Freedom Fighters, the Golden Age team I submitted as an entry to CustomCon 14. This interpretation of the team is based on Carlo Barberi's and Larry Stucker's art from the comic Justice League Unlimited #17.
Sam uses the Mattel Joker body as a base, with new hands supplied by Flash. (New wrist articulation added.) The vest was sculpted with Magic Sculpt. His head is a Hasbro Ra's al Ghul, with newly sculpted hair and beard. The Mattel Penguin figure was the source of the hat.
The stripes on Sam's pants and hat and the hat's stars are strips of paper, previously printed on a laser printer. I applied them via decoupage, so as to save me the insanity-inducing labor of painting them.
Created Spring 2006