Tonia & Cason
Posted on July 6, 2013
Difficulty: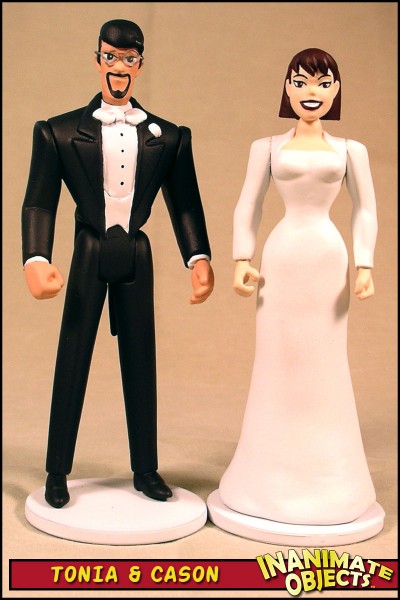 Boy meets girl. Boy makes custom figure of girl. Next thing boy knows, he's getting married and making more custom figures of girl.
The amazing finally happened. Cason and Tonia got hitched. To commemorate this astounding event, I knew no one but myself could make the figures for the cake.
The Cason/Casimir figure uses the Mattel Joker figure as a base. The arms are taken from the Hasbro Joker figure, with the hands from the parts drawer. The head is a Hasbro new school Riddler. The glasses are cut from clear vinyl with a leather puncher.
Tonia/ViolaKitten/Violist is based on a Hawkgirl figure. The skirt was shaped from Super Sculpey. The jacket details are made from Kneadatite. A Jack-in-the-Box Supergirl provides the head.
I'm happy to say the figures were a big hit. The wedding was great fun, and we'd like to thank everyone who came. And thanks to Mama Pilliod for the great cakes!
Created September 2005