Thanagarian Soldiers
Posted on July 4, 2013
Difficulty: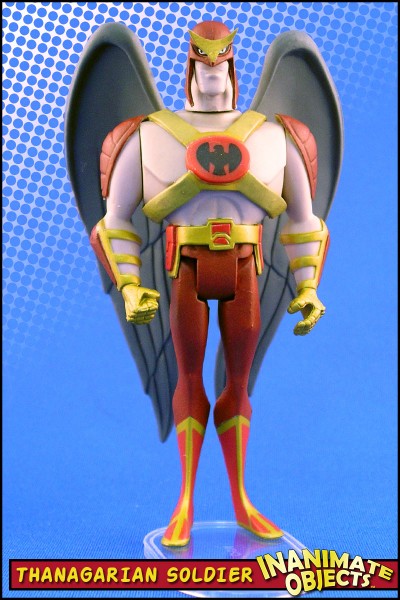 Mattel's recent Thanagarian 6-pack shows what good Mattel can do when it really wants to. It features some nice new parts and characters.
However, the set gives us four Thanagarian officers but no soldiers. I chose to enhance my shelves with a few extra hawk grunts to fill out the ranks.
I created two males and one female. The female is a repaint of Paran Dul, removing only the side belt pouches. The men are both made from Kragger. The good lieutenant's head is a separate piece from his helmet, so I swapped his noggin for Superman and Waverider. (Both of those heads were significantly Dremeled down to fit inside the helmet.) I also Dremeled off the half-spheres from the harnesses, and the upper portions of the gauntlets.
A small piece of vinyl was added to all three troops for the "bird brows."
I didn't want to repaint the entirety of each figure, as at least half of each figure's paint job was still accurate. So I sprayed them with a clear, automotive primer, and then painted only those ares that needed a color change.
Created Winter 2010