Talia al Ghul (Hush)
Posted on July 5, 2013
Difficulty: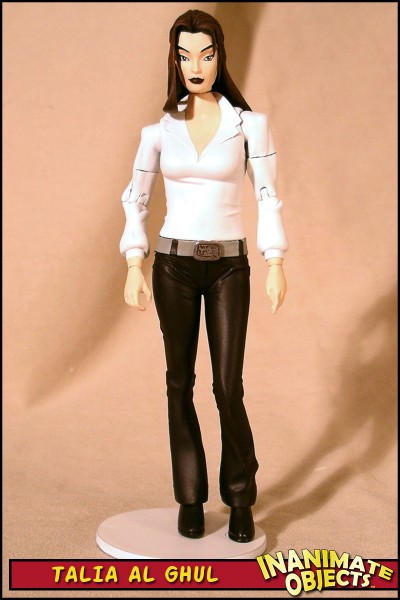 It seems I'm in the minority when it comes to admitting I actually enjoyed "Hush." Despite this social stigma, I still want more "Hush" figures, so the customizing continues. This latest effort is the lovely and deadly Talia, seen here sporting a charming ensemble, perfect for wearing to an abduction by a former lover.
I had planned to make Talia last winter, and was toying around with base parts ideas when the SOTA "Charmed" figures were announced. I knew immediately that Piper would make a great base for Talia in this particular outfit. The pants essentially remain unchanged. I only added a vinyl belt. The straps from Piper's top were Dremeled of, to be replaced with a vinyl collar. The biggest challenge was the arms. I wanted to create the semi-poofy, satin-esque look of Talia's shirt while retaining the articulation. Using Kneadatite in just the right places, and a making a few slices with X-acto, I was able to do just that. Paint rubs are another issue altogether.
Originally I intended to use a head from one of the WildC.A.T.S figures, as they were all designed by Jim Lee. One in particular has crazy Lee hair. But the face was the wrong shape and has excess sculptural details to be removed. I then opted for a Danger Girl head. (The Russian chick.) In an effort to hide the original look, and to be more on-model, I added Kneadatite hair on the left side of the face, flowing around to the back, with a few stray hairs for good measure. A complete repaint of the face and hair finished the job. (Three colors in the eyes and three colors in the hair, folks!)
I'm really pleased with Talia, and I'm glad I waited for the right base. This version also appeals to me as she's not in the usual Bond-girl outfit. Not that a place for a good version of that outfit couldn't be made on the shelf.
Created Summer 2004