Talia al Ghul (First Appearance)
Posted on July 5, 2013
Difficulty: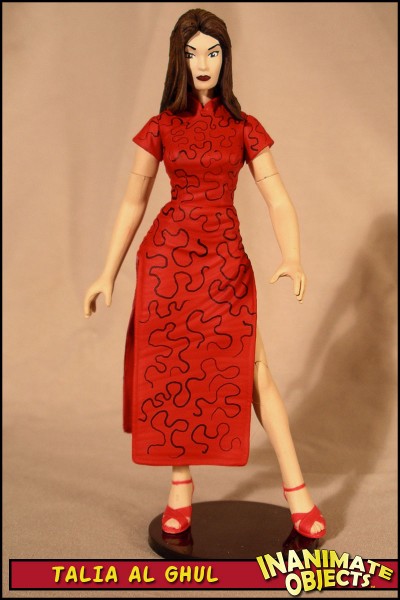 While researching the details of Classic Ra's al Ghul, I viewed both Ra's and Talia's first appearances with fresh eyes. I was struck by how similar Talia's dress from her first appearance was to that of the Mary Jane figure from the Spider-Man line. Except for Mary Jane's sculpted clasp, the cut was almost identical! How did I not see this before? So, one Mary Jane figure a head swap later…
Very little work was needed for the body. I Dremeled away the clasp along the right collar bone and the dress was ready. I masked off the limbs and sprayed the dress red. The squiggly lines were drawn with a good ball point pen. The head took a bit more work. I used a Danger Girl "Natatsha" head, mainly because I had one in the parts drawer. (Actually, it's the "female heads drawer," but that sounds morbid.) I added some more hair to her left side with Magic Sculpt, and shaped a new neck from Kneadatite.
The end result is a classy looking figure that works well on the shelf.
Created Summer 2005