Talia al Ghul (Bombshell)
Posted on June 5, 2020
Difficulty: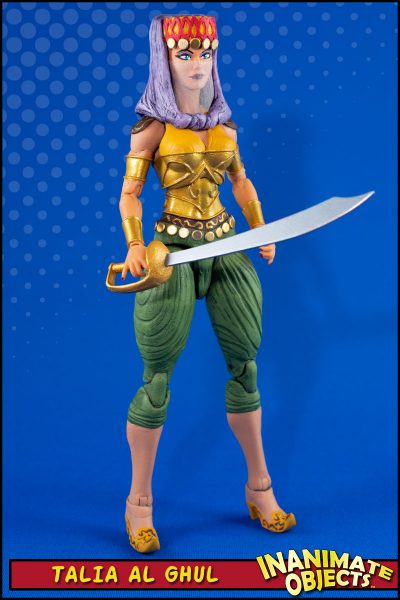 Talia al Ghul may be the most difficult Bombshell custom I have attempted to date. The Middle Eastern design influences mean there are virtually no parts from other figures to steal from. I know, because I researched this one several times over several years, always hoping I overlooked something. But I didn't. So everything had to be made from scratch.
Part of the challenge was the lack of reference material. This was not one of Ant Lucia's designs. She appears on a couple of comic covers, and is in a few issues. But aside from the one comic cover and some character turn arounds from a video game (Injustice?), there's little in the way of detailed art. Given the unusual nature of the armor, it was challenging to know exactly how to shape the various sections based on minimal art. So sometimes I had to make executive decisions and go with it.
Once I knew what I was looking at, it was time to start sculpting. The base body is a DC Essentials Harley with Bombshells Mera arms. The head is a casting of Bombshells Ivy. I started with the pants. If I couldn't craft those, then there was no point in going further. (I did, in fact, walk away from this project at least once. I'm glad I came back.) I used Super Sculpey to shape the pants, and I am please with the result. If I had to start over, there are some improvements I would make, but once is enough, thank you very much.
The armored bodice was the next challenge. I used very thin styrene rods to shape the various lines. It was not possible to replicate the intricate detail of the art, so I aimed for a simpler approximation. The shoes are Magic Sculpt.
Next up was that headpiece. I started by shaping the "box" on top. Then I sculpted a thin layer of epoxy across the front. I used an X-acto blade to cut out the pattern across the front. Finally, I employed Super Sculpey to shape the purple fabric. (I would normally use Magic Sculpt, but it was just too sticky to work with in this case.)
The "coins" are tiny brass circles I sourced from Etsy. The veil is a tiny piece of material from our sewing supplies. (Let me tell you, trying to glue down a piece of material that is 90% open holes is not fun!) The sword if from an old Hush Ra's al Ghul figure.
I'm really glad I stuck with this one.
Created may 2020