Superman (Nicolas Cage)
Posted on September 29, 2023
Difficulty: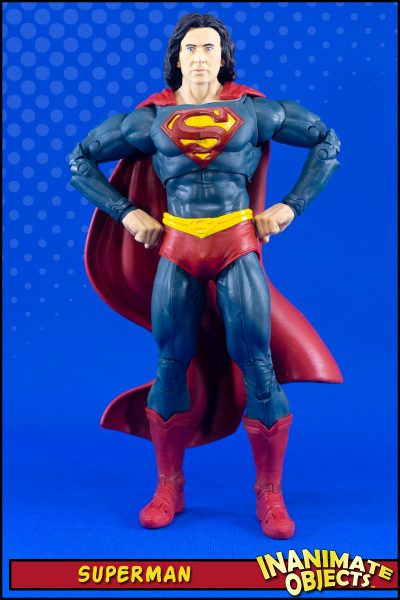 SPOILER! After 30-something years, Nic Cage finally got his chance to appear as Superman in a movie.
Most of us know Tim Burton worked to develop a Superman movie after Batman Returns, featuring Nicolas Cage in the cape and spandex. The Superman Lives endeavor made it as far as costume fittings and design work, and there are photos floating around of Mr. Cage as Supes. And then the whole thing just… fell apart. That's Hollywood for you.
So when the team behind 2023's Flash movie were developing the various worlds and timelines of that film, they included Mr. Cage's Superman, as a nod to the unfinished work. It was a generous moment of cinema that really brought smile to my face.
So naturally I had to make a figure of him.
Not breaking any new ground here. I did what many others have done. I purchased a 3D print of the head from kyimcustoms. I popped it on the "Page Punchers" Superman body. many of us used that body for this project. It's not particularly accurate. I think it's because on its own, the Page Puncher Superman is not a very interesting figure, so swapping a Nic Cage head is an upgrade.
Created June 2023