Superman (Anti-Kryptonite)
Posted on June 30, 2013
Difficulty: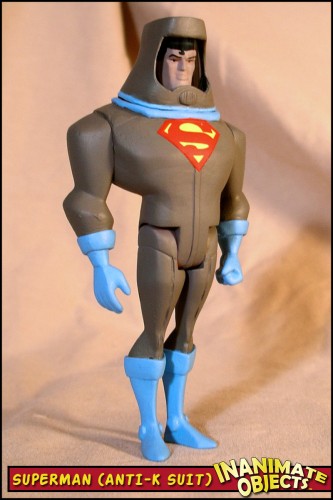 Presenting another fine custom inspired by Mike Danza! I'd been wanting an accurate figure of Superman in his anti-Kryptonite suit for years, but never got around to it. Mike proved using a Justice League Superman as a base could work nicely.
For the most part, mine is almost a direct copy of Mike's recipe. The tops of the gloves and boots are Kneadatite. I smoothed over the pecs, as well. I got lazy near the end and didn't add the lines on the gloves. Maybe I'll add them later.
I differed from Mike's version the most on the helmet. As seen on the show, the helmet consists of a flat plane on top and rounded edges. Not an easy shape to replicate. To do so, I used Super Sculpey to shape the helmet over Supe's head. (The sculpt was removed once the casting was made.) I then made a latex rubber mold of the sculpt. Once the mold was ready, I made a casting by "rolling" the Alumilite around inside the mold, thus keeping it mostly hollow. Once the casting was free, it required lots of cleanup, both inside out and out, and the face plate had to be cut out. It proved to be quite a chore, but a satisfying challenge.
The emblem was applied using decoupage. Once all was painted and sealed, I used hot got glue to affix the transparent blue acetate inside the helmet.
The helmet is removable, and rests loosely on the figure.
He looks great on the shelf, especially next to anti-Kryptonite Supergirl.
Jump to the downloads section to grab Superman's S-emblem for your own custom!
Created Winter 2005