Supergirl (Anti-Kryptonite)
Posted on June 30, 2013
Difficulty: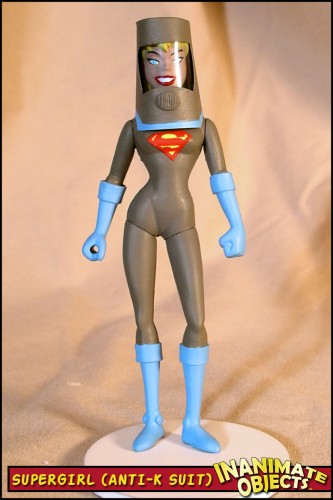 I had started an anti-Kryptonite Superman, and it only made sense to make Kara in a similar suit. For the base I chose the recent Mattel female body used for Batgirl and Catwoman. I'm not a big fan of this overly-small sculpt, but I wanted Supergirl to look significantly smaller than Superman, and the usual Hawkgirl or Wonder Woman base made her too tall.
Generally speaking, this was an easy project. Vinyl was used for the tops of the gloves and boots. I chose a Jack-in-the-Box Supergirl head, as it's much better than the Hasbro version. I trimmed off most of her hair to accommodate the helmet.
I wanted to make a helmet using a similar method to Superman's (see that recipe for the method), but this tiny body just did not have wide enough shoulders for that method to work. So I simply cut the helmet from very thin styrene, adding a breathing filter of Kneadatite.
The emblem was applied using decoupage. Once all was painted and sealed, I used hot got glue to affix the transparent blue acetate inside the helmet.
The helmet is removable, though it's not really meant to be, as I didn't finish out Supergirl's hair.
She looks great on the shelf, especially next to anti-Kryptonite Superman.
Jump to the downloads section to grab Kara's S-emblem for your own custom!
Created Winter 2005