Stacked Deck
Posted on July 6, 2013
Difficulty: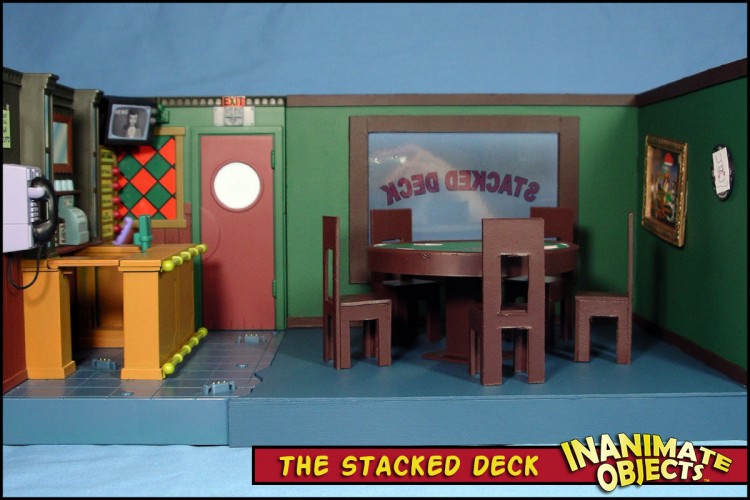 I've wanted to make a Stacked deck playset for many years now. It shows up in several episodes of Batman: The Animated Series, most prominently in Almost Got 'im, Batgirl Returns and Beware the Creeper. Years ago I thought a good base for the Stacked Deck would be the Moe's Tavern environment from the Playmates Simpsons line. That idea stuck in the back of my brain for a long time, until I stumbled across the tavern on Amazon for a decent price. I snatched it up and proceeded to work!
Very little of Moe's is changed. I painted the television black and covered over Bumblebee Man with Summer Gleeson, and replaced the sticker in the door window, removing Barney's silhouette.
The extension is made from illustration board, as are the card table and chairs. The top of the table, the "painting" and the dart board were printed, cut, and glued in place. The window was printed on a transparency sheet. It's removable, and can be replaced with a window without text (so it can be a different bar, like the one the Flash Rogue's visit), or a broken window pane, as seen below. As for color, every time the Deck appears in the show, it looks different. So instead of picking a particular scene or episode and trying to match, I just followed the lead of the existing tavern playset. (And that way I didn't have to repaint Moe's. Bonus!)
I'm glad to final get this one finished after so many years noodling around my brain. Of course, now I realize I need some generic thugs to occupy the bar.
Created July 2011