Shade
Posted on July 4, 2013
Difficulty: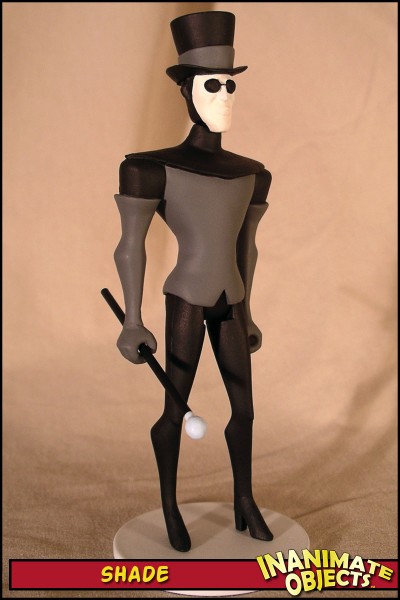 This Shade recipe has been around for several years now. I'm just now getting to him. Specifically, mine is based on my pal Tyke's version.
Though the scale is a bit tall, the best base is the old "Rumble Ready" Riddler. His body style is a near perfect match for Shade. I started by smoothing over some of the details with Magic Sculpt. I then sculpted the mantle, tunic and the tops of the gloves. I swapped the feet for Talia's heels (which didn't help the height problem!).
For a head, I chose the old school Mr. Freeze, as his goggles would easily pass as Shade's… uh… shades. I altered the chin and gave him new lips. Mad Hatter donated the hat, which was Dremeled out to fit Freeze's noggin.
The cane is a bit of styrene with a "parts box" ball attached to the end.
My Injustice Gang grows…
Created Spring 2006