Selina Kyle's Apartment
Posted on October 19, 2021
Difficulty: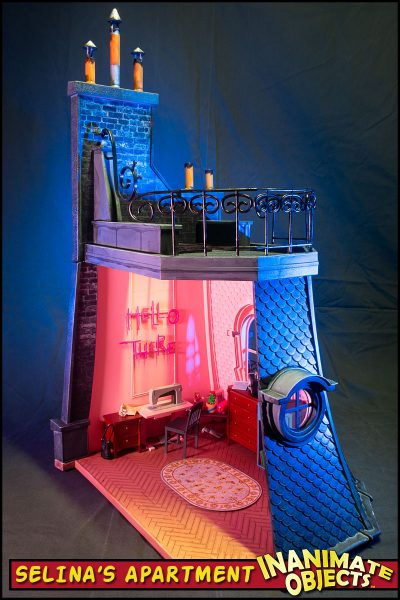 In February of 2020, Playmates unveiled a new playset for the Miraculous Ladybug series. (It's a French super hero show.) Obviously, it was meant to invoke a Parisian apartment, and as far as modern playsets go, it's a solid design. But I didn't see Paris. I saw Gotham. Specifically, I saw Selina Kyle's apartment from "Batman Returns." But what was the scale? I wasn't familiar with Miraculous past the name of the show. And I hadn't yet seen any of the toys here in the States. And then three weeks after that, the world ended.
18 months later, the playset popped up again. Playmates started sharing photos of it on their social media channels. Now I could see it was meant for their 10-inch line of Miraculous dolls. But if my eyes did not deceive me, the scale of the set was much smaller. The dolls looked like giants! So I took a chance and ordered the set online.
My gamble paid off! The set is a perfect size for 6″ and 7″ figures, especially if you fill it with appropriately sized furniture. I pulled up some reference shots from the movie and started to work.
The first thing I did to convert it to a more Gothamesque color palette was to carefully peel off the stickers that were meant to represent brick. I scanned the stickers into InDesign, then replaced the bright, yellow bricks with dark and crumbling bricks. Second, I had to removed the "framed photo" from the main wall. This left a gaping hole in the wall, which I filled with a chunk of styrene, modeling paste, and styrene rods. Ultimately, I wanted the interior to look somewhat run down, so I left some of the replacement areas rough. Then I sprayed the exterior primer grey. Now it was time to cut the bricks from paper and glue them into place. The inside was already pink, but I dulled it down with a dingy, 1950s pink. All of this was followed by various washes and drybrushing.
I've been dabbling in 3D resin printing, so I brought some of those new skills to the mix. I bought a file for the sewing machine and printed it. But the real gem of this piece would be the "Hello There" sign. I pulled a still from the movie, then traced the letters in Illustrator. I don't yet have the skills to build such things in a 3D sculpting app, so I used a free online tool to turn my vector art into a dimensional file. True, it's not the rounded neon tubes I would have preferred, but at this scale it almost doesn't matter. The letters are mounted to a styrene rod, and the whole thing is rigged with magnets so it can be easily removed and the interior redressed for other purposes. I printed the initial set of letters in pink, but the pink resin mix didn't "pop" much visually, so I painted them. The "T" and the "o" are rigged separately, and can be replaced with two smokey black letters, representing the smashed tubes and creating the "hell Here" sign.
I'm really pleased with this set. All things considered, I didn't have to change much to make it work. It's 85% paint. And very versatile. I expect to get some great rooftop shots with this.
Now who has a 3D file of an unmasked Michelle Pfeiffer head I can print?
Created October 2021