Red Hood (Jason Todd)
Posted on July 5, 2013
Difficulty: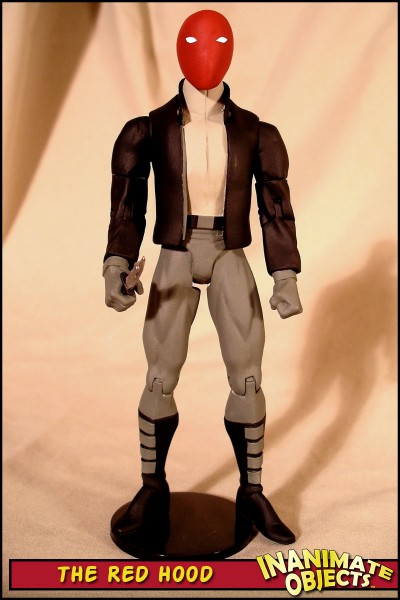 Love him or hate him, the "Red Hood" has made a big splash in the DC books. I've enjoyed the character enough I wanted a figure of him on the shelf.
I went back and forth on potential recipes for at least a year. Some of the difficulty lay in the fact that every artist seemed to draw the character's outfit slightly different. I finally decided the most obvious route was probably best, blending the best elements and using parts I had on hand.
The base is a Hush Ra's al Ghul figure. Magic Sculpt was added to create the shirt and most of the jacket. The elbows and lower arms were cut from the scary-looking bad guy in the first series of Charmed figures. Some epoxy added to the shoulders helped even out the new arms. The hands belong to Ra's. Vinyl was used for the gloves, belt, collar and boot buckles. (I assume they're supposed to be buckles.)
The helmet was shaped from Magic Sculpt over an existing head. (The scary-looking Charmed guy again, I think.) The eyes were cut from paper and decoupaged on. The knife is from the parts box.
Ultimately, the end-result is a bit bland. I wanted the final sculpt to be ready for paint during CAPE 2: Son of Cape, so I rushed things a bit. (His neck is just a tad too long.) But he's not too bad, all things considered.
Created Spring 2006