Red Hood Henchman
Posted on December 5, 2014
Difficulty: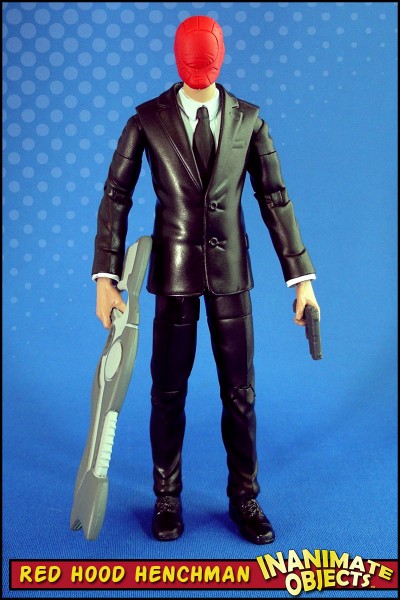 One of the few things I've enjoyed from DC's Nu52 is Scott Snyder and Greg Capullo's take on Batman. It's far from perfect, and there's much about it I would do different, but I appreciate their enthusiasm and dedication to crafting a new corner of the mythos. There's much to be admired in the story and art. One of their creations is a new take on the Red Hood. In this version, the Red Hood has many conscripted henchmen, who wear read masks over their heads.
DC Collectibles cleverly released a Red Hood figure with his distinctive noggin and that of his minions. The idea being that one could purchase two or more figures and have army builders. I love this idea, and I wish more companies would follow suit when the design allows. However, part of being a customizer is wanting to squeeze maximum use out of existing parts, and this case is no different. So I dug out a Mattel Clark Kent figure. It's a tad short, but otherwise usable. All that was required was to build a new neck peg for the head, and paint the suit black. (He should be wearing white gloves, but that's wear Lazy drew the line.) A new army builder is born!
Created November 2014.