Question
Posted on August 11, 2022
Difficulty: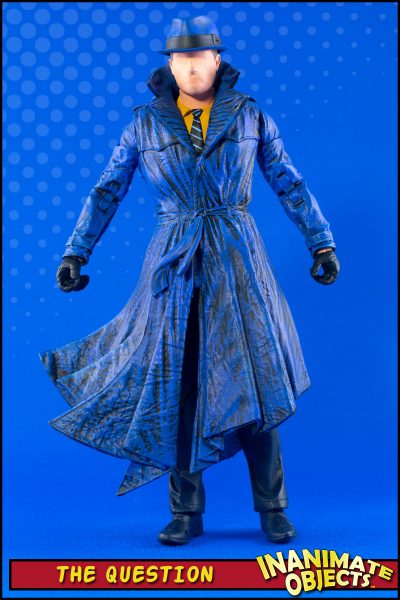 The idea to repaint Mcfarlane's version of Hush as the Question comes straight from shinigamicustoms. He posted some photos of such, and I happen to have a spare Hush figure lying right in front of me. I think I had him converted within a day!
Depending on how far down the rabbit you want to go, this project is a bit more than a repaint. I disassembled Hush, replacing the legs and torso with those from the big-arm My Hero Academia guy. Being a McFarlane figure, the shoulder connections were of the same type as Hush, and the Hush arms fit in nicely. (Though the coat prevents them from lowering to the sides as much as I would like.) The neck tie was scrounged from fodder. I added the waist tie using the neck tie from a McFarlane Dark Knight Returns Joker.
For the head, I used a Diamond Select Gotham TV Jim Gordon. I slapped some Magic Sculpt onto his face to make the faceless mask. The hat came from the Bullock in the same line.
Finally, paint was applied. I painted the coat a solid black before dry brushing blue over all that great texture.
Thanks again to shinigamicustoms for the inspiration!
Created May 2022