Punchline (Bombshell)
Posted on July 15, 2020
Difficulty: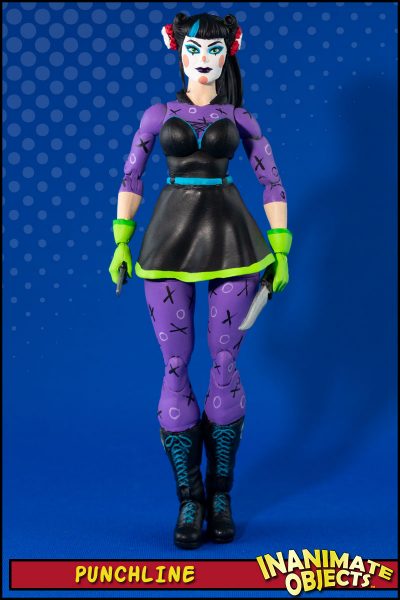 New villains come and go. Very few have the staying power necessary to be added to Batman's Rogue's Gallery, such as Harley or Bane. Punchline is the latest villain to get a big push by DC. Normally, I might wait to see if a character sticks around before dedicated time and resources to a custom. But then Ant Lucia went and put his spin on Punchline, and I was compelled to craft his version. Clearly, I'm a sucker for victory rolls.
From the waist up, she's all Bombshells Poison Ivy. Batwoman's legs were swapped into Ivy's pelvis. The socks and shoes were replaced with boots from the Mallrats gal Diamond Select produced. Batwoman also supplied the skirt.
I repositioned Ivy's flower in the hair, and added a matching flower on the other side. The long ponytail came from a Marvel Legends female head I found in my fodder supply. The only additional sculpting was the red flowers behind the white flower, the gloves, and the hair hanging from the sides of her face.
Will Punchline endure? I have no idea. But I like this version. Besides, my Bombshells needed more villains to fight!
Created July 2020