Poison Ivy (TNBA)
Posted on July 4, 2013
Difficulty: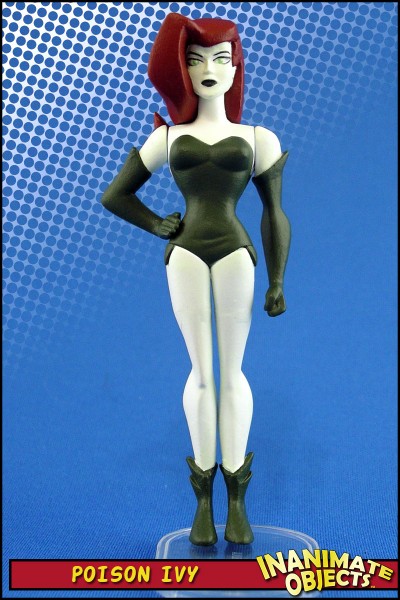 How many times have I made this version of Ivy now? Five? Six? (And no, most of those incarnations are not on Inanimate Objects. They'll likely never see the light of day again.)
Ivy's hair is the hardest part of any Ivy custom. It's so specific in shape, it's hard to duplicate in 3-D.
I sculpted the hair on a Wonder Woman head (1st version). For the first time, I think I've captured the hair. But I'll admit this still isn't the perfect custom yet. Ivy's head simply needs to be bigger in proportion to her body. The search for the prefect head continues.
As with my previous version, the body is built from a Hawkgirl. In this case, I used a Thanagarian Shayera figure, as her legs are slightly shorter the the Hawkgirl figure's. Even then, I cut out about an eighth of an inch out of the thighs to bring down the height even more.
I asked the talented Spymagician if he'd create some castings of Ivy's head for me, and he has graciously offered to do the same for anyone who contacts him. (Spy's a busy guy, though, so please be patient.)
Created November 2010