Nora Fries
Posted on June 30, 2013
Difficulty: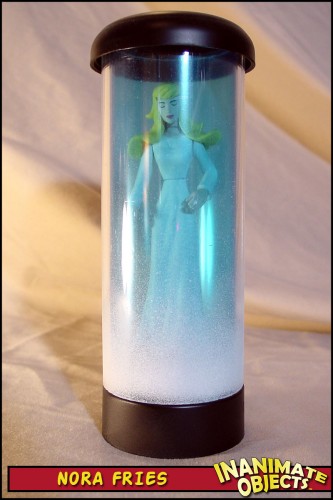 After the success of my other memorial pieces, Nora Fries seemed a natural candidate. The figure itself was made from an Anastasia body, Mulan (skirt) arms, and a Blink head.
The hair was sculpted from Kneadatite. This was my first attempt at using this material (thanks Yer Pal Boneyard!), so the result is a bit rough, but I still think it conveys the image of floating hair.
The clear acrylic tube was hazed on the outside with spray paint to achieve the look of condensation. A sheet of blue acetate was cut to fit, rolled and placed inside the tube. The base and top are random parts from the parts box. The figure herself is raised above the base on an inch-tall peg, hidden by the condensation. The final effect is one of a floating Nora, forever preserved.
Created Spring 2000