Martha Kent
Posted on July 23, 2016
Difficulty: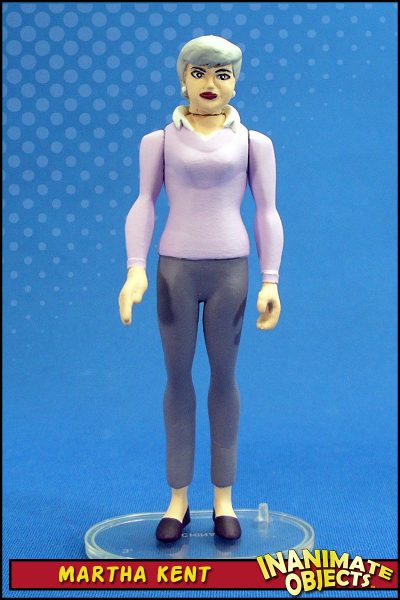 Martha Kent
I've always enjoyed the interpretation of the Kents as seen on Superman: the Animated Series. Thus I wanted figures of them on my shelf. I decided it was time to fill that void.
I put a lot of thought into how to start building Martha. The problem was the torso. Martha does not have the buxom bosom of most if the heroic ladies found in the parts box. True, I could Dremel things down, but then I'd just have to sculpt back up again. I finally found the solution buried deep in a parts box. Years ago I had acquired some Happy Meal toy from the animated Treasure Planet movie. The feline captain figure fit the bill nicely.
Her arms are standard Mattel female arms, slightly sanded down. The feet came from a Hawkgirl figure. But the legs and hands? I genuinely don't remember. (It's been a long time from sculpting to this writing) Mystery pieces for everybody!
The next challenge was her head. I wanted her head to be accurate, and my existing supply of base heads was not cooperating. I asked Glassman if he would once again step up to the challenge. Happily, he accepted, and the result is so much better than I could have done myself.
Glassman is making copies available to order, so check out his website!
Created July 2016