March Harriet
Posted on November 9, 2020
Difficulty: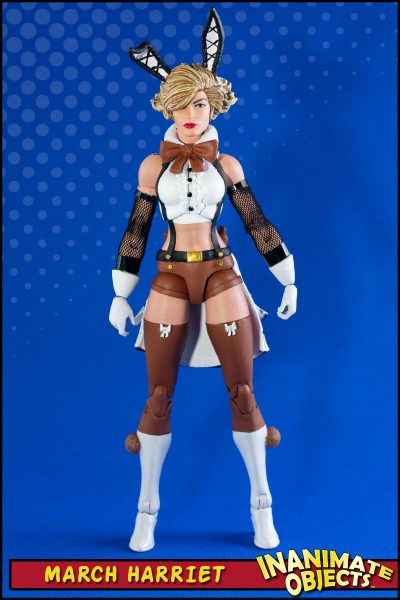 Paul Dini has created more characters beyond our dear Harley Quinn. One of the many "Dinizens" of Gotham is Harriet Pratt, a.k.a. the March Harriet. She fell in with the Mad Hatter and the Wonderland Gang and can hold her own against the Bat family.  This is Harriet as depicted by Emanuela Lupacchino in Batgirl #25 (2018). It's rare that I get to add a genuinely new member of the Rogue's Gallery to my shelves, so I took the opportunity.
The base figure is an Essentials Harley. The shirt, pants, gloves, tie, etc. are shaped from Magic Sculpt and ProCreate. The little white bows on her legs came from a Bombshells Poison Ivy. The fuzzy balls on her boots were taken from a Mattel Nu52 Harley. The bustle is sculpted from Super Sculpey and hangs via magnets embedded in her posterior. The fishnet sleeves are cut from 1/6-scale leggings, and glued to the back of the arms.
Her head is a Marvel Legends gal from fodder (I forgot what character specifically). I had some difficulty figuring out her hair until the always amazing Zelu1984 suggested I track down an old Metal Gear Solid Meryl Silverburgh figure. I did so, and was able to remove her hair and give it to Harriet, adding a newly sculpted fall in front. Hair transplant successful!
Welcome to the family, Harriet!
Created October 2020