March Harriet
Posted on November 9, 2020
Difficulty: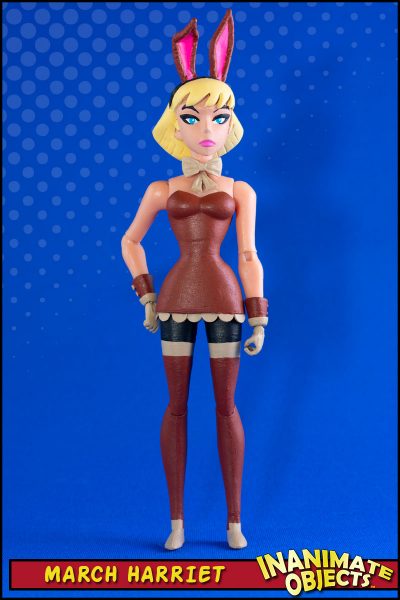 Paul Dini has created more characters beyond our dear Harley Quinn. One of the many "Dinizens" of Gotham is Harriet Pratt, a.k.a. the March Harriet. She fell in with the Mad Hatter and the Wonderland Gang and can hold her own against the Bat family.  This is what she might look like as a Bruce Timm style animated character. The depiction is based on some fan art I found online. Sad to say I do not know whom to credit for it.
Harriet's base is a 6″ Justice league Hawkgirl. (Always useful in both scales!) I removed the wings and other sculptural details, then used Magic Sculpt to add the skirt, glove cuffs, etc. The head is a casting of TNBA Poison Ivy,  with newly sculpted hair. A Marvel Legends White Rabbit donated her bunny ears and bow tie. The half circles on the skirt are cut from clear vinyl.
It's always nice to see Harley have more friends to hang out with on the shelf.
Created October 2020