Lois Lane (Eradicator)
Posted on March 26, 2020
Difficulty: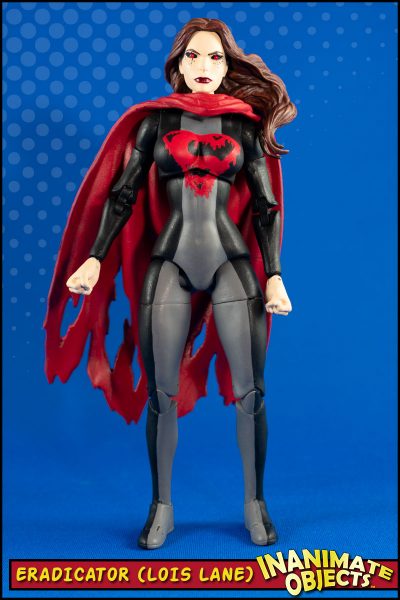 From idea to final execution, this might be the fastest custom I've ever made. I was reading the collected edition of DC's "Tales from the Dark Multiverse." The stories are alternate versions of famous stories, in which something takes a dark turn and the end results are changed. In this case "The Death of Superman" plays out very differently when the Kryptonian "Eradicator" protector program…? robot? whatever… merges with an angry Lois Lane in the wake of Superman's death, and together they end crime and corruption by crossing lines Superman and his friends would never have crossed. In the end (Spoiler!) Kal-El returns, as he did in the original story, but he dies again during the fight between Lois and the Cyborg Superman. It's all very tragic. But I loved the idea of an angry, vengeful Lois. And the adaption of the Eradicator's usual outfit was fun. Plus, I had just acquired the perfect cape (from a Marvel Legends BAF Demogoblin), and had a spare Maven Collectibles gal that was perfect for the task.
This may also be the first "no sculpting required" custom I've made in ages. I only applied the cape. (I admit I wish the "bib" of the cape would sit lower on her chest. I tried to make a change to that effect, but nothing worked.) The power of this custom is in the paint. I love the eyes!
When it comes to customs, I don't often get out of Gotham very often. So this was a fun change.
Created March 2020