Lois Lane (Bombshell)
Posted on June 5, 2020
Difficulty: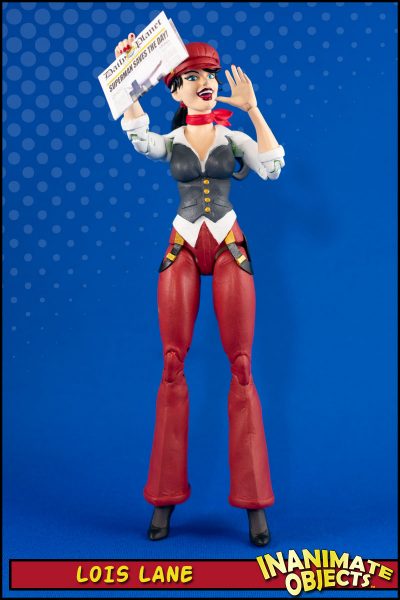 If DC Collectibles had not cancelled the Bombshells line, I feel confident Lois would have been made, probably in wave 4. Ant Lucia's reimagining of her as a newsie is a wonderful twist on the character. I could not avoid making her.
The torso and legs started as Bombshells Mera. The pants legs had to be changed from those bell-bottom things to slacks. Oy, that was a chore! I know it doesn't look like much now, but that took a lot of work to resculpt. Mera's ankle joints are notorious for breaking, and they did not disappoint. Lois uses Bombshell Ivy's feet, but they are glued in place. Any hope of maintaining the ankle articulation was gone.
Ivy donated her arms. The head is a casting of Bombshells Wonder Woman, and Bombshell Batgirl donated her scarf and ponytail. (And the hair is on a swivel joint now.) The vest, shirt, and hat are shaped from Magic Sculpt. The buttons are cut from a styrene rod. The suspenders are cut from raw vinyl.
Created May 2020