Lara & Michael
Posted on March 26, 2020
Difficulty: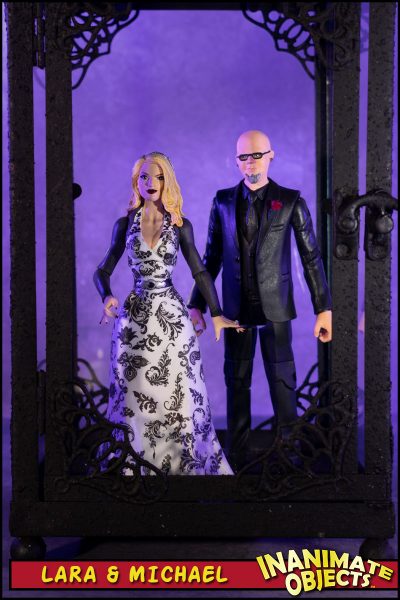 I knew when Michael tasked me with making wedding figures, I'd be facing a challenge. No way would the unique style of this couple allow for a boring wedding color scheme! And I was right.
Michael was the easier of the two. I used a Mattel Two-Face as a base (the one with the red jacket). All I added was the vest and the lapel flower. For Michael's head, I got lucky. I was visiting family in Eugene, Oregon, and we happened to stop by a small CD and vinyl shop that was going out of business. Inside I found these obscure action figures of "real" nerds, made around 2002 or so. I'd never seen or heard of these, but one had a head and face that was the spitting image of my friend. So I snagged it in anticipation of the project. On clearance, no less! (I wish I had snapped a photo of it before I chopped it up.)
Lara's dress was more challenging. Her torso and arms are from a Marvel Legends Enchantress. Her head was Emma Frost's noggin. But the skirt is mostly Super Sculpey over aluminum foil, with some areas reinforced with Magic Sculpt. (And a few details cut from vinyl.) The real challenge, of course, was all the black lace over the white dress. There was no way I could accurately emulate the complex pattern of the dress itself, so I opted to "suggest" a similar effect. I downloaded several lace patterns in vector format. I made a variety of sizes, and then printed them on decal paper. Then, one by one, each little black "object" was individually cut, dipped in hot water, and transferred to the sculpt. Finally, I applied many coats of matte gel medium to help reduce the visual edges of each cut decal. It was a lot of work, but the final effect was worth it.
Congratulations to the happy couple! (It was a great wedding.) Speaking of, the fancy in-wedding photos below are the work of Rafael Badillo Photography. He and his team did great work!
Created February 2020