Lady Shiva (Hush)
Posted on July 5, 2013
Difficulty: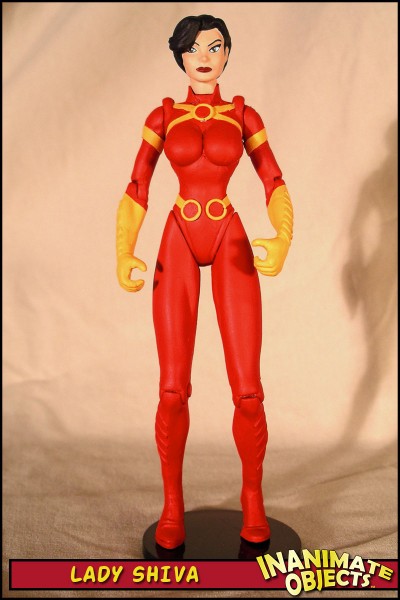 Lady Shiva is another custom designed to fill out the ranks of my "Hush" shelf. I can't say she's my favorite character, or that I was particularly moved by her appearance in "Hush," and yet, here she is.
Finding a base body was tough, as the usual suspects didn't quite match Shiva's physique as drawn by Jim Lee. Luckily, I remembered the old Gen 13 Fairchild figure, which was really close to what I wanted. (A big shout out to Big Bad Voodoo Lou for helping me track down the figure!) Fairchild had many sculptural details that had to be removed, and the booted feet and the head had to go. I replaced the feet with a pair of Danger Girl boots from the parts box. The various straps and arrows are vinyl, and the circles are single chain links.
Finding a likely head also proved tough. All the "Asian" heads I tried were too small in scale. I ultimately went with another parts box Danger Girl standby, altering the hair and mouth. The crazy ponytail is made from Magic Sculpt and styrene tubes.
I'd like to note that the costume details are hard to make out based on the book's art. Thankfully, Shiva appeared again in the outfit in recent issues of Batgirl. That helped clear up a lot of issues.
The final result is a bit rough, but at least she's finished. Only took a year…
Created Spring 2006