Lady Blackhawk
Posted on July 5, 2013
Difficulty: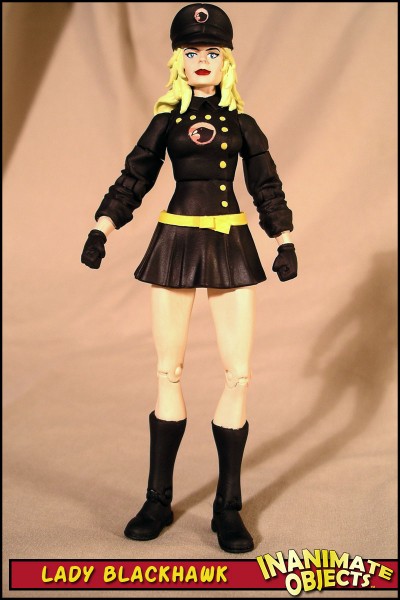 When the "DC Superheroes" Supergirl figure finally hit stores (albeit in small quantities!), I was struck by how well her skirt would work for a Lady Blackhawk. (I had just finished reading the latest issue of Birds of Prey.) Soon, I had a Lady Blackhawk custom started.
The body, shoulders and lower arms all belong to the Four Horsemen Supergirl sculpt. The elbows and the bunched-up jacket sleeves are taken from a Spider-Man movie Norm Osborne figure. Magic Sculpt was added to the shoulders to fill out the sleeve shapes. The double-breasted jacket is Magic Sculpt, the buttons are sliced from a thin rod of PVC, and the belt is vinyl.
Her head is the DCD Phantom Lady. I added the curly hair along the sides with Magic Sculpt. Her hat is taken from the TMNT General Blanque (thanks Batlaw!). The hair and head had to be dremeled down to make the hat fit. Finally, the emblems were laser printed and decoupaged on.
Lady Blackhawk was entirely painted on-site during CAPE 2: Son of Cape, during Free Comic Book Day at Zeus Toys and Comics in Dallas. Gail Simone, current scribe of Birds of Prey, was in attendance. I'm happy to say she was quite pleased with Zinda in toy form!
Created Spring 2006