Green Lantern Kyle Rayner (STAS)
Posted on June 29, 2013
Difficulty: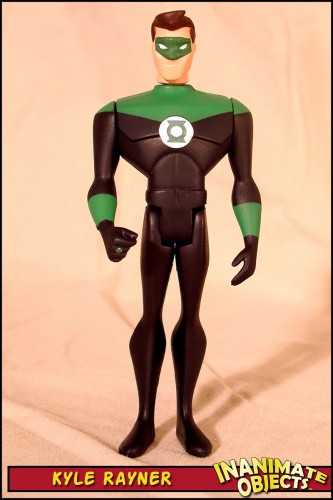 Kyle Rayner, as he appeared in "Superman: The Animated Series," is one of the most common animated customs seen. Most customizers use a modified version of a Nightwing head, either Mattel or Hasbro. Generally speaking, that will work in a pinch (and I have seen some excellent ones), but very few people make the extra effort to get the specific details accurate.
Nightwing's and Kyle's mask differ slightly in that Kyle's runs straight across the top, as opposed to the "V" of Nightwing's. This was easily fixed with Magic-Sculpt. Second, the hair is in fact quite different. Using the DC Direct maquette of Kyle as a reference, I dremeled away Nightwing's hair down to the scalp. I then reshaped the top of the head and hairline, adding the appropriate single curl at the front. The result is an accurate animated-figure scale Kyle Rayner head.
Thankfully, Mattel made the rest easy for me by providing their Tomar-Re figure on the appropriate body-type, already painted. I simply swapped heads. I did cover over the factory-painted Green Lantern logo with a cleaner laser-printed version.
It's nice to finally have a decent Kyle Rayner figure on the shalf after all these years.
Created Winter 2006
Jump to the downloads section to grab Kyle Rayner's Green Lantern emblem for your own custom!
Addendum: Special thanks to HutchPrime for pointing out I forgot to "remove" Kyle's boots. Nothing a little paint and Dullcote can't fix!