Kitsune Nozawa
Posted on July 4, 2013
Difficulty: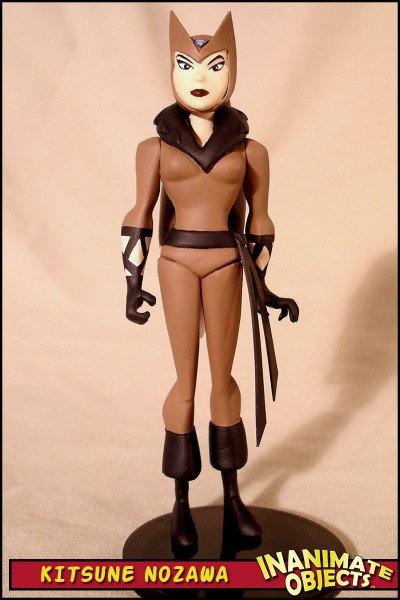 One of my favorite things about the various animated-style comics over the years was when the writers using the comic as a testing ground of sorts for characters. Yeah, there were some real stinkers, but there were some fun characters and situations explored, too. I love seeing light cast on the far corners of the DC animated universe!
Out of one of those corners come Kitsune Nozawa, a Japanese assassin with a hologram-projecting jewel on her hat. She appeared "old-school" style in the first Batman Adventures annual, and later in an updated design in the one-shot Batgirl Adventures, one of my favorite comics ever.
My Kit custom was also part of Scott Rogers' Hawkgirl Challenge in CustomCon 14. Multiple participants submitted figures made from Hawkgirl bases, showing what a wonderfully versatile base Hawkgirl is.
The base body is Hawkgirl's with the appropriate details sanded away. Magic Sculpt makes up the fur collar, belt and the boot tops. Vinyl was used for the sash and pointy-ear mask thingy. (What does one call that?)
The giant pig-tail (fox-tail?) is shaped from Super Sculpey. It's attached to the head via a styrene rod for support. The head itself is the Jack-in-the-Box Batgirl head. I original used this head for my first Black Canary customs, but "repurposed" it when I made a better Black Canary using the new Mattel hair.
She's about as obscure as a character can get, and yet I'm really pleased with the end result. Thanks to Scott's challenge, I finally had a reason to make her.
Jump to the downloads section to grab Kit's jewel emblem for your own custom!
Created Spring 2006