Green Lantern Katma Tui (Hearts & Minds)
Posted on June 29, 2013
Difficulty: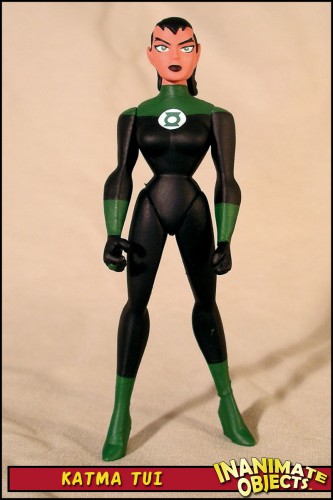 Katma Tui was my first project to use the new "generic" female body by Mattel. Given its smaller stature, I felt it was appropriate for Katma, as she's somewhat short. (She's not an Amazon character!) Aside from the presence of heels, the base figure was just about perfect. (And for once, I let the heels detail slide.)
The other inspiration for this project was the Justice Lords Wonder Woman head used on this first release of the generic body style. Her hair was shaped very much like Katma's in the back, and the facial structure was close enough to Katma's to work, without having to remove any pesky headband details. I completely removed Diana's hair and reshaped the cranium with Magic-Sculpt. I then sculpted the hairline and ears. I finished by slicing off the back of Diana's hair and returned it to Katma's new head.
The rest is paint and a laser-printed emblem. I wasn't happy with the existing Green Lantern logos available, so I made my own in Illustrator. See below to download an appropriately sized version for your own projects.
Jump to the downloads section to grab Katma Tui's Green Lantern emblem for your own custom!
Created Winter 2006