Joker (Injustice Gang)
Posted on July 4, 2013
Difficulty: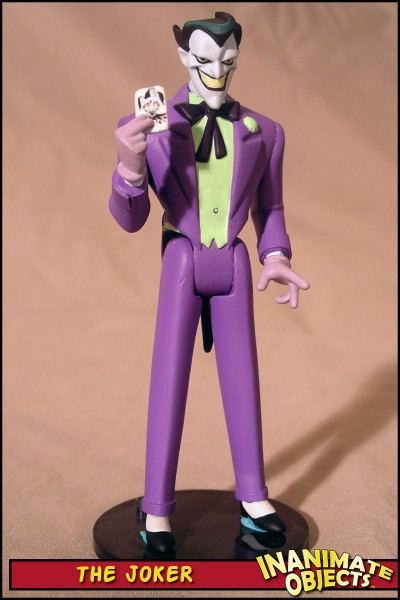 It's been awhile since I made a Joker custom. Seems there was a time when I was adding him to the site on a regular basis. Well, it's time for a new one.
This version of the nefarious clown is based on his appearances on Justice League. The design is more or the less the same as the one seen in Return of the Joker, but I wanted to make a figure that was closer in scale to the Mattel figures. (Plus, I can produce a more accurate custom this time.)
The base is Mattel's animated Joker figure. The cummerbund was removed and the vest added via Magic Sculpt. Vinyl was used to make the pants and sleeve cuffs.
The head is a repaint of Mattel's Joker. (The head sculpt was the only part they got right.)
The tiny Joker card was an image found and printed off the internet. (Sadly, I didn't save the image. Sorry folks!)
One can never have enough Jokers. (Or Harleys.)
Created Spring 2006