J.J.
Posted on July 4, 2013
Difficulty: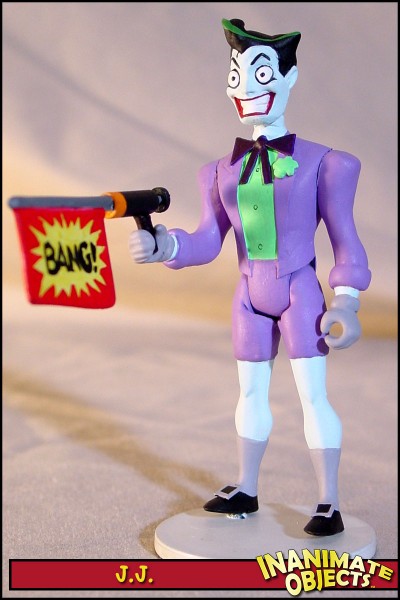 Poor little JJ. Man, that'll ruin your day.
(I've been asked by viewers to not reveal any spoilers of Batman Beyond: Return of the Joker, edited or otherwise. Frankly, if you're seeing this, it's too late, but I'll do my best to refrain from saying anything specific.)
JJ's base is a Tim Drake Robin figure. The details were sanded off. I used Kneadatite to create his shorts, shoulder pads, cuffs and flower. His lapels, tie and shoe buckles are cut from styrene of various thickness. His head is Creeper's. I used Kneadatite to give him a new hair-do and change the shape of the eyes. JJ's head is wider and more round than Creeper's, and I tried to shave off portions to reflect this. Given what I had to work with, I'm extremely pleased with this project.
The, er, "pop" gun is made from styrene tubing. The flag is from the Legends of Batman Joker's gun.
Created Spring 2001