Huntress (Dark Heart)
Posted on June 30, 2013
Difficulty: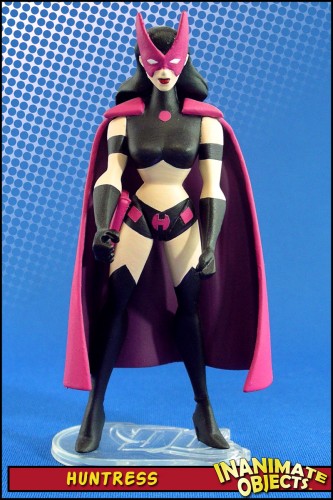 Once again Mattel managed to offer fans a figure using generic parts that might not have been made otherwise. This is a fine strategy. However, there's simply no excuse regarding how far off some of these paint jobs are.
This first version of Huntress needed a complete overhaul. Her paint apps were all wrong, the cape she came with was inappropriate, and the head was close but not quite right.
I used the included cape, cutting off the neck and shoulder portion. I sculpted the shoulder points, and then glued them and the cape on to the shoulders. I filled in the eyes of the mask so as to be smooth. A Hasbro Talia donated the gun holster. In order to apply the pink squares, circle and "H," I painted white paper with the same paint I used on the figure, then cut out the shapes and attached via the decoupage method. Despite the appearance of the photograph, the dark colors are dark purple, not black.
She's a heck of a lot better now.
Created Winter 2007