Harvey Dent (BTAS)
Posted on June 30, 2013
Difficulty: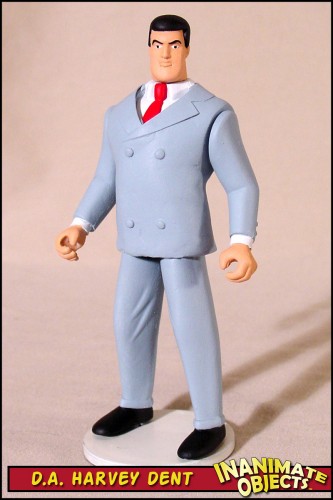 I've had this one planned for a long time. While sorting through the loose heads drawer, I realized that the Hasbro Lex Luthor head was not too far removed from the pre-Two-Face Harvey Dent design, especially in the mouth and nose. So I expanded the chin and created some hair with Kneadatite to match the good district attorney.
The body is based on the Hasbro old school Two-Face, primarily because the shape of the pegged pants was the most accurate available and the bulk of the figure was needed for Harvey's frame. I removed the coat and created a new one with Kneadatite. The lapels are vinyl. The arms are from the always useful Wild Card Joker, and the hands from the parts box. The shoulders had to be sanded to accommodate Joker's arms. The connection was made using screw posts.
This has become one of my favorite "civilian" figures so far.
Created Fall 2003