Harvey Bullock (TNBA)
Posted on June 30, 2013
Difficulty: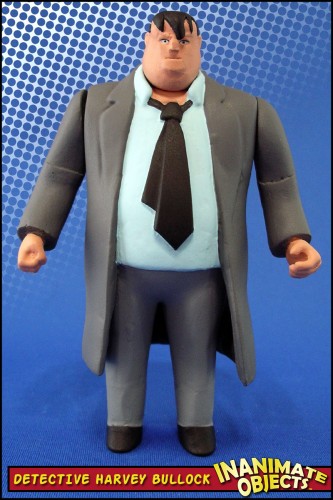 Anyone who customizes in this style knows that Bullock is one of the hardest characters to accurately create. JB Designs created an excellent version from a Ben 10 "Grandpa Max" figure, something I had considered doing. However, as great as JB's custom was, I felt it was too short, given that Max is far too short for an adult in the JLU line, much less the TNBA line. (Still a mighty fine custom!) A few days later, we were treated to another Bullock by ClimaxOne. He built his off a Mattel Penguin. C1's was closer in mass to the Bullock I wanted, but still a bit short.
I opted to start with a casting C1's version. However, I wanted to make some changes. (No disrespect intended.) I extended the legs, shirt, and coat, straightened the tie, and squared off the back of the head. I also adopted a hat from the DC Classics Question. (I glued it to a second, swappable head, so it fits more accurately than a removable hat would.)
All in all, an excellent Bullock now sits on my shelf. Thanks to all those involved!
Created December 2011