Harley Quinn (TNBA II)
Posted on July 2, 2013
Difficulty: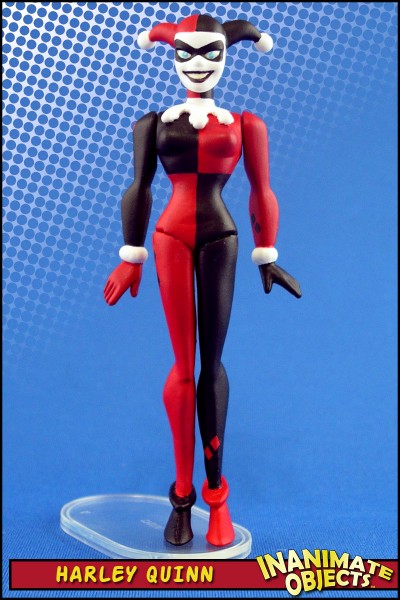 It's been far too long since I've created some Harley customs. To make up for that slack, I've created four new ones.
I suppose I didn't have a real need for a TNBA Harley, as I already made one that I'm quite pleased with. But I wanted to try a new version that featured some of the new parts available via Mattel's attempt at the character.
Mattel wanted to capture the look of Harley's model sheet, thus her arms are posed straight with the hands pointed out. I applaud Mattel for doing so, but the effect was lost since Mattel continues to use their standard (and usually inappropriate) female buck with the wide stance and high heeled ankles. (If they'd made a new torso and used the Shayera limbs as we'd been saying for years, they could have made their money back on the new parts tenfold by now. Short sighted suits…)
Like my previous version, the base figure is a Hawkgirl. The head and arms are Mattel's, and the feet Hasbro's.
Created November 2010