Harley Quinn (TNBA I)
Posted on July 2, 2013
Difficulty: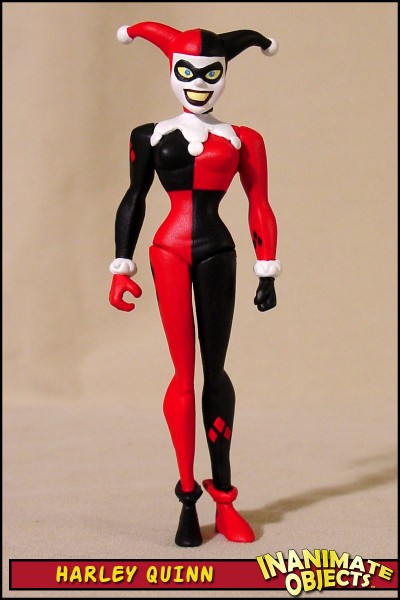 I've long since wanted an improved, new school Harley. Given that the only difference between the old and new school designs are some sharper angles, a new custom had to be reasonably spot-on, otherwise it's just a plain old Harley. Using Hawkgirl as a base, I think I've gotten pretty close.
Hawkgirl's details were sanded or smoothed over, and the Popeye arms trimmed a bit. The neck tassels are sculpted from Kneadatite. The ankle parts of the shoes are taken from a Harley figure. I sliced them from the original figure, then drilled a hole in them, sliced the back, and wrapped the pieced around Hawkgirl's ankle. The cuffs are also from a Harley figure, spliced between Hawkgirl's arms and hands.
The head is also an original Harley, though I filled in the half-closed eyes and sanded them smooth, allowing me to paint a more wide-eyed expression.
I'm very pleased with this piece. I'm one step closer to updating all the new school female designs.
Created Fall 2003