Harley Quinn (She-Devil)
Posted on November 16, 2019
Difficulty: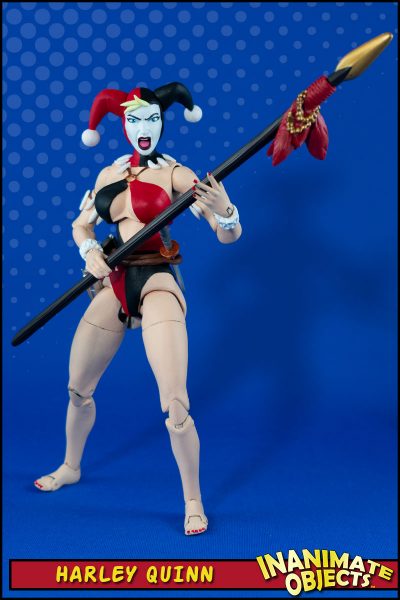 This custom was 100% inspired by the art of renowned comic book cover artist Joe Quinones. (He's done some amazing work for DC, Marvel, and others.) His original piece is an homage to and a parody of the Shanna the She-Devil #1 (1972.) This Harley exists very much in the sub-genre of "jungle girls." You can see Joe's piece here, and Jim Steranko's original Shanna cover here.
Building a custom figure of this wacky version of Harley had been in the back of my mind for years. The thing that finally brought her to the top of the (very long) list was the arrival of the Maven Collectibles superheroine body. I ended up buying a few, and this is the first piece I've finished using a Maven gal. Generally speaking, I very much like what they accomplished, though she is not perfect. The articulation is fantastic. All that's really missing in that regard is an ab crunch. The swappable heads, hand, and feet are wonderfully useful. She is a well designed and a well engineered figure. That being said, should Maven Collectibles ever produce another round, I do have some friendly suggestions. First, for a figure that is designed for and entirely marketed to the niche world of customizers, the clearance between joints is no different than a standard manufactured figure. These things are meant to be painted, yet the paint will scratch off with every twist of a shoulder. I expect that from standard figures, but not from something that's meant to be painted. A little extra room between joints would be appreciated. Second, maybe the next round can offer some different colors. I know that even a handful of various skin tones would go a long way towards making customizers happy. That neutral grey is not good for anybody. (I also think their measurements of scale are off. Harley here uses the 1/12 "athletic" build, and she fits in better with my 1/10 DC Collectibles stuff. The 1/10 Maven gals are almost Mego sized!)
As to the custom itself, I used my usual Magic Sculpt to shape the lines of the outfit, headpiece, and various claws. The head tassels are from a DC Essentials Harley. I wanted to use two of the Maven faces, but I didn't want to slice up two Essentials Harleys or sculpt two sets of tassels, so I made everything swappable via magnets. (Science is fun!) Essentials Harley also donated her wrist ruffs. (Are they still called ruffs if they are around the wrist and not the neck?) The belt was shaped from ProCreate. This allowed it to be flexible such that it is removable, and connects via two magnets in the back. The gun is from Bombshell Harley. The knife was included with the Maven base. The spear is one of the many repainted versions from Marvel Legends.
The only place I deviated from Joe's art was the mask. I had every intention of including it, but after I painted the face, I liked the face so much I thought adding the mask would detract. So I skipped the mask.
Aside from the paint rub issues, I am really pleased with the results. She was a lot of fun to photograph. Thanks again to Joe Quinones for the inspiration!
Created Fall 2019