Harley Quinn (Revenge)
Posted on March 22, 2014
Difficulty: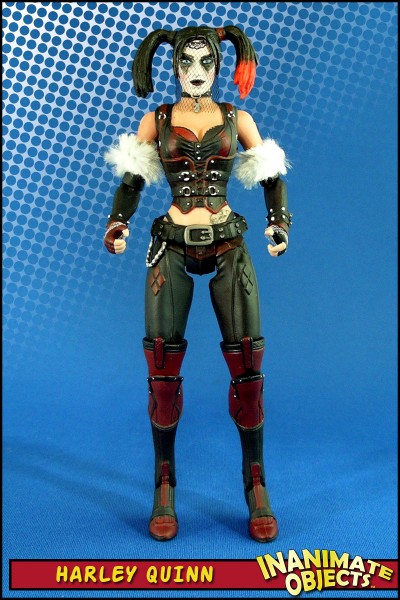 A funny thing happened on the way to making this custom. Less than 24 hours after I put the finishing touches on this one, DC Collectibles announced their own version, due in stores later this year. Sigh. I can't win for losing.
Nonetheless, my version still has merit. I built off of the Mattel version of the Arkham City Harley figure, as I feel it is superior to the DC Collectibles versions. (And really, how often does one get to say that?) I was really determined to incorporate "soft goods" into this project. Thus her veil and the lace on the gloves are cut from tulle. The fur on the top of the gloves is made extra-fuzzy pipe cleaners. I trimmed down the fuzz a bit, and simply wrapped short pieces around her arms. Otherwise, it's all paint.
I acknowledge my laziness in not removing some of the sculpted details, such as the diamonds on her left thigh, and the second left armband. In retrospect of the official version's announcement, I'm glad I didn't take the time.
Created March 2014