Harley Quinn Nurse (Bombshell)
Posted on July 15, 2019
Difficulty: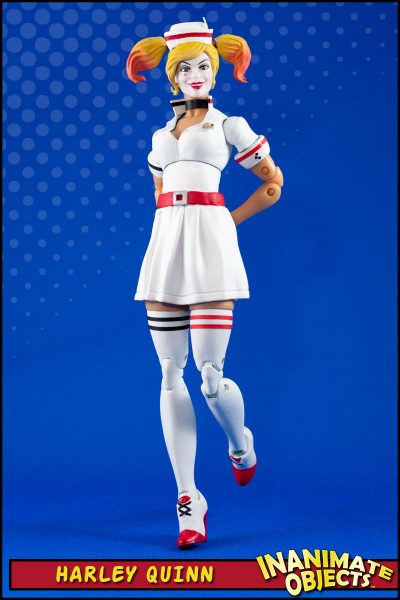 Nurse Harley was one of the six Bombshells figures solicited by DC Collectibles and then cancelled. I was not prepared to take no for an answer. So I took matters into my own hands.
Harley's legs started as Poison Ivy's. Her torso and arms are from a Bombshells Batgirl. The skirt is from a Mattel Mary Marvel. (I know the skirt should be pleated. I took the lazy way out.) Her shoes are from a Bombshells Batgirl. And of course, that's a genuine Harley head on top, with the goggles removed and a new hat added. All those stripes gave me the opportunity to use some of the Testor's model race car piping I have left over from similar projects.
Judging by the photos DC Collectibles released when they solicited her (twice!), they skipped several details that I chose to maintain. (I used the statue for reference.) She's not perfect, but she looks better on the shelf than the empty spot DC Collectibles delivered.
Created Summer 2019