Harley Quinn (Liquid Factory)
Posted on May 6, 2017
Difficulty: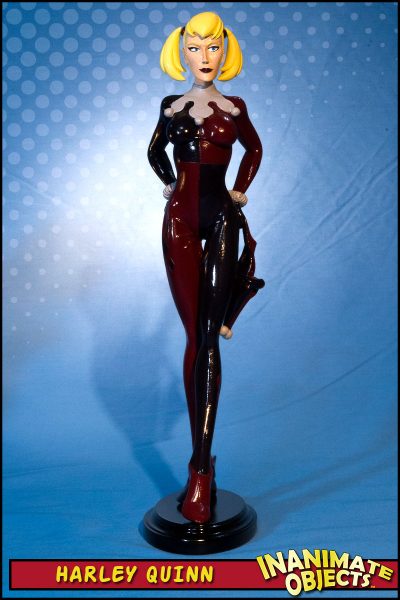 I don't know much about this resin garage kit. I found it on eBay. The label says "Liquid Factory," and it appears to have been made in the early 2000s.
I made a few changes to the design. First, as big as her chest is now, it was bigger before I started. It also featured some "high relief" details. I sanded those down, as that's not the look I was going for. The face had a mask etched in, and I filled in those lines. Finally, her pigtails were meant to stand out at a 90 degree angle, as usually seen in animated versions. But I didn't care for how that looked on this particular piece, so I rotated them down. I prefer how the hair now frames the face.
In an attempt to be different and add some variety to my shelf, instead of the usual red and black, I opted for maroon and purple, as seen in some of the early design work prepared for the first "Arkham Asylum" game. However, the purple paint cured much darker than I anticipated, so it still appears black. I did manage to tone down the white sections to a light grey.
I finished up with a shiny layer of gloss on the outfit, mainly just for that shelf variety I mentioned before.
Created March 2017