Harley Quinn (Hollywood)
Posted on October 30, 2014
Difficulty: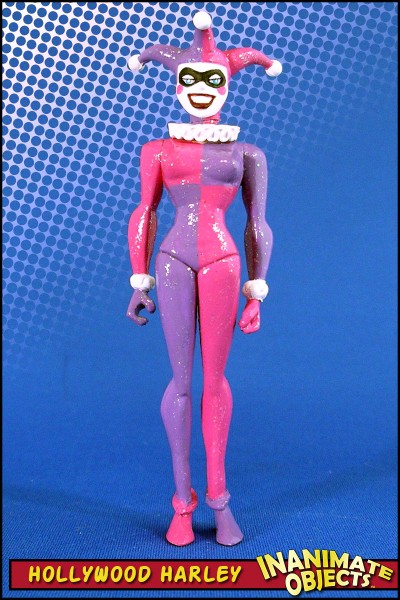 In the "Harley and Ivy" comic mini-series. The gals head west when they hear a film is being made about them. Harley initially takes the place of the director, and then she plays herself. This is the costume of "Harley" as she appeared on set. As much as the original comic inspired me, I was also inspired by the amazing cosplay of Enasni Volz  and Elise Archer. Their versions of this outfit made me want to make a tiny plastic version for my shelf.
The body is the standard Mattel Hawkgirl, with a Hasbro Harley feet, wrists, head, and a third tassel glued to the front. The Elizabethan ruffle collar is taken from a Lego Shakespeare, because I'm not insane enough to sculpt that.
This may be the only time I ever get to apply the gloss varnish with shiny sparkles ("Sparkle Glaze"). Such silly fun!
Created July 2014