Harley Quinn (Anniversary)
Posted on July 2, 2013
Difficulty: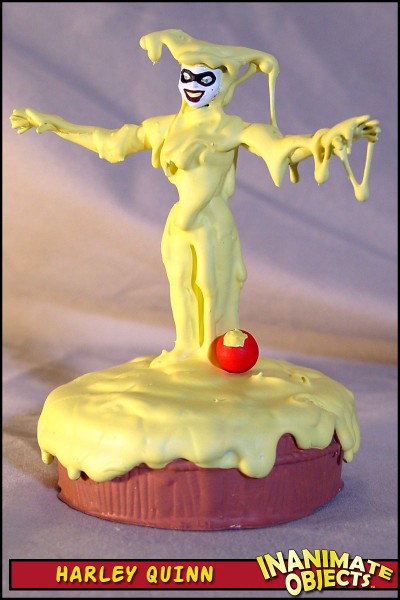 "Wanna try some of my pie?" Oy! I guffawed when I saw that scene the first time. Great comedy, on so many levels… Er, anyway, as for my plastic interpretation… This is another one of those inspired uses for spare parts.
The Harley you see here contains only 2% real, grade-A Harley parts. (The tassels.) The rest is cobbled together from arms and legs in the parts box, while the head is a spare casting of Harley. The limbs were glued together, tossing articulation out the window. But lack of articulation wasn't a problem, as she was smothered in hot glue.
The giant "crust" is from the bath tub included in one of the Mulan gift sets. The tub was filled with a piece of soft foam, with Harley's feet planted in the middle.
When the hot glue was dry, I simply painted her. Oh, and the, er, cherry is just a small wooden sphere.
Created Fall 2000