Harleen Quinzel (White Knight)
Posted on July 15, 2020
Difficulty: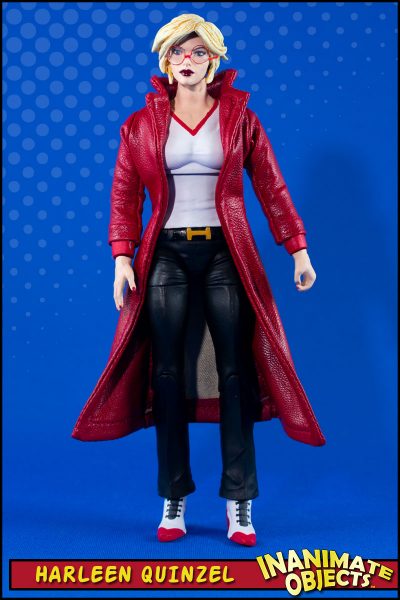 There is so much to love in "Batman: White Knight." One of my favorite aspects is the depiction of Harley. Sean Gordon Murphy really understands her in ways most current writers of the character do not. Thank you Mr. Murphy!
To craft a custom of Harleen, I needed to find a female base in non-spandex, non-armor pants. That's tougher to find than it seems. But I did find such a figure, in the form of the WWE Stephanie McMahon figure by Mattel. (I don't know anything about wrestling.) Seems Mattel released her a few times. I was able to find her fairly cheap on eBay. The figure itself appears somewhat top heavy, but once the jacket is removed she's fairly slim. I used Magic Sculpt to reshape the neckline and add a belt. The shoes came from a DC Essentials Harley, with Magic Sculpt modifications. Her head was a recent Marvel Legends Wasp. I thought the face worked for Harley while still being somewhat generic, and Wasp's hair was more than halfway there. I added lots of spikes and curls using Magic Sculpt.
The glasses are cut from clear vinyl using a leather punch, with tiny styrene rods for arms. The tasteful red coat was purchased on eBay.
Created May 2020