General Eiling
Posted on June 30, 2013
Difficulty: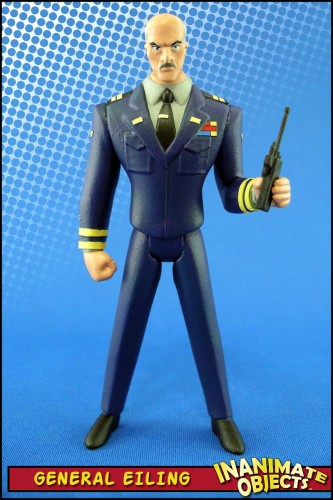 This project is built entirely around Glassman's fantastic General Eiling head sculpt. Glass man is just chock full of talent, and I am very pleased he shares his efforts with us mere mortals.
While Glassman and Tyke opted for Eiling's blue uniform, I chose the green. (Don't ask me the difference. I don't know enough to know the difference.) Originally, I intended to create his "field" look: rolled up sleeves, no tie, no jacket. Then I decided this look would prove faster to create, and I wanted this project to come together quickly, so I changed tracks. I think the result looks pretty good. The base figure is an animated Mattel Two-Face with the bottom of the jacket partially extended. (Had I not been pressed for time, I'd have created a proper jacket, as I did for the Question.) The various medals, stripes and stars were created in Photoshop and InDesign, then printed on laser paper and applied via decoupage.
Thanks to Glassman, without whom this project would not have been possible.
Created Fall 2008
2011 Update! Now that we have Mattel's version, I wanted to repaint Glassman's Eiling to add some variety to the shelf (blue). Mattel's is nice, and I'm happy to have it, but I think I prefer Glassman's.